Volume 1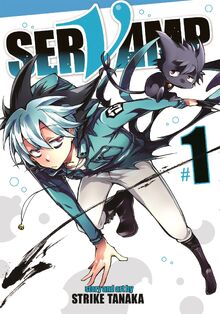 A Vampire Cat Serves Only One Master
"When a stray black cat named Kuro crosses Shirota Mahiru's path, the high school freshman's life will never be the same again. Kuro is, in fact, no ordinary feline, but a servamp: a servant vampire. While Mahiru's personal philosophy is laissez-faire, he soon becomes embroiled in an ancient, altogether surreal war between vampires and humans."
Chapter 3: 7+1
4Komas
Trash Day!
Discipline
Tech Wreck
Laughing Fool
Laughing Fool 2
Japanese Release Date: December 27, 2011
English Release Date: March 17, 2015
Volume 2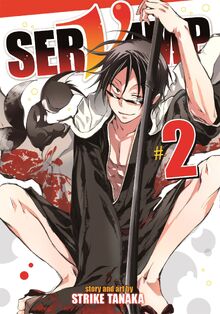 Secrets and Lies
"What happens when you adopt a vampire cat? Shirota Mahiru's formerly simple life now includes a cast of real crazies. He meets more Servamps and their masters and even acquires his own weapon. But when he discovers the shocking truth about an old friend, his world quickly spins out of control. Who can Mahiru really trust? Will Kuro help him solve the mystery?"
4Komas
The Servamp Family [1]
The Servamp Family [2]
Japanese Release Date: June 27, 2012
English Release Date: June 16, 2015
Volume 3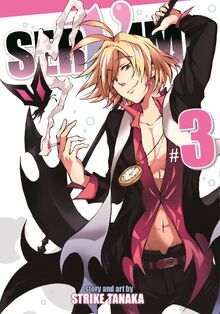 Countdown to Chaos
"School's out for the summer, but fifteen-year-old Shirota Mahiru has no time to kick back. Not while the clock is ticking on the verge on a Servamp war! He and Kuro have more questions than answers, especially about the secret group known as C3. But one thing is dead certain: the evil Tsubaki is still a homicidal monster with Shirota and Kuro in his sights."
4Komas
Team Melancholy
Team Envy
Team C3
C3: The Sequel
Servamp High School
Japanese Release Date: December 27, 2012
English Release Date: September 15, 2015
Volume 4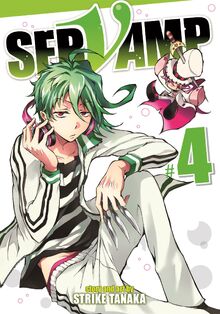 Family Ties
"Shirota Mahiru has one clear mission: to protect good people from harm. But his friend Arisuin Misono isn't really in your typical sort of danger. He's trapped in the overprotective safety net of his helicopter dad. Can Mahiru help him escape? Or will Misono remain a prisoner in his own house filled with secrets and lies?"
Chapter 21: Lust
4Komas
How Tall?
Ch-ch-changes
Dodo,Age 18
Servamp High School [2]
Japanese Release Date: April 27, 2013
English Release Date: December 8, 2015
Volume 5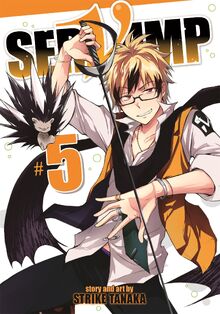 Time to Face the Music
"Shirota Mahiru and his battle-weary allies are planning their next move for taking down Tsubaki. Meanwhile, the city is abuzz over a famous pianist. To the world he's "The Angel of Music," but this musician's attitude is as prickly as his hedge-hog companion. When Tsubaki dispatches a servant to go after these newcomers, can Mahiru and Kuro intervene in time?"
Chapter 24: Tears
Chapter 25: SOS
4Komas
Tsubaki and Sakuya 1
Tsubaki and Sakuya 2
Shrewd
Rain and Jeje
Japanese Release Date: December 27, 2013
English Release Date: March 22, 2016
Volume 6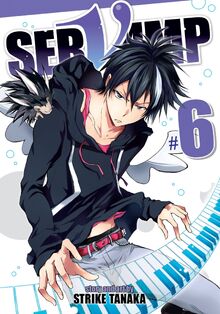 When Blood Starts to Boil
"Kuro has never been the most enthusiastic of vampires, preferring to eat chips and lounge about rather than combat Tsubaki and his servants. But something changes after Lawless appeared, and now Kuro's past is catching up with him faster than he and Mahiru can possibly outrun it. Is the bond between Servamp and Eve enough to overcome this newest trial, or has the unlikeliest of duos finally met their match...?"
Chapter 28: Alone
4Komas
Japanese Release Date: July 26, 2014
English Release Date: June 21, 2016
Volume 7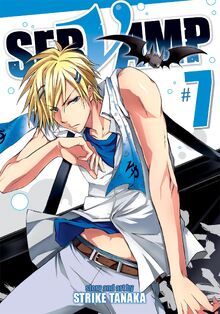 What's In a Name
"With Mahiru and Kuro still recovering, Misono sets up a plan into motion to rescue Licht and his Servamp Lawless from the clutches of Tsubaki. But it turns out the biggest threats to the mission's success are the prisoners themselves, as Licht and Lawless begin fighting each other! Just what is Lawless' history with Eves and what does it mean for the future of his most recent acquisition?"
4Komas
At the Supermarket
A Tall Order
Villain
How to Raise an Angel
Tsubaki and Sakuya 3
Blue Hawaii
Late Night TV
Japanese Release Date: December 27, 2014
English Release Date: September 20, 2016
Volume 8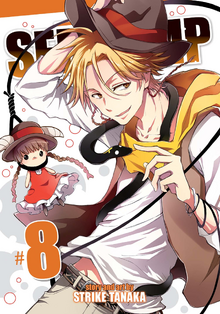 Lines Have Been Drawn
"Having rescued Licht and Lawless from Tsubaki, it's all hands on deck for the confrontation they've been waiting for. Mahiru, Kuro, and their friends are prepared to face the eighth Servamp and stop his reign of terror over other vampires. That is, until new faces appear on scene! Who are these newest players in the war against Tsubaki and just whose side are they on...?"
Side Story
4Komas
Awkward
Kuni-chan & Tsuru-chan
All Alone (Tsubaki's Case)
All Alone (Sakuya's Case)
Servamp Academy 3
Japanese Release Date: July 27, 2015
English Release Date: December 13, 2016
Volume 9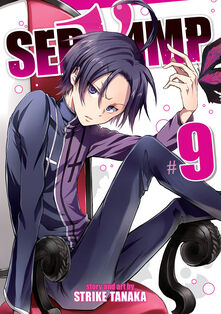 "Kuro is a super unmotivated vampire, always griping about even the most menial of tasks. When he's paired with high school student Shirota Mahiru, the two end up joining forces with the C3 combat trio. But what is C3 hiding about Tsubaki's motives? And what's up with Tsurugi's personality change? Follow Mahiru as he tries his best to work alongside a trio of childish adults in this comedy full of vampires and heart-racing battles!"
Chapter 45: Pain
Chapter 46: Ace
4Komas
Misono's Dream Event 1
Servamp Anime Commemoration Comic
Servamp Academy 4
Japanese Release Date: December 26, 2015
English Release Date: March 28, 2017
Volume 10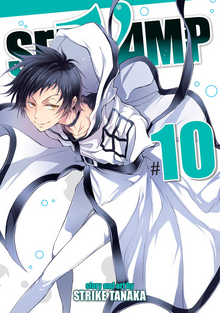 "After getting mixed up in an escape attempt by some of the subclass
vampires, Kuro and Mahiru find themselves in bonds – compliments of Tsurugi. But while the two lie immobilized, who should stumble upon them, but the Greed Pair! Meanwhile, as Tsurugi pursues the escaped subclasses, chaos strikes – is the whole building collapsing?! The screams are sure to resound in Volume 10 of this fast-paced drama!"
Japanese Release Date: July 27, 2016
English Release Date: August 8, 2017
Volume 10.5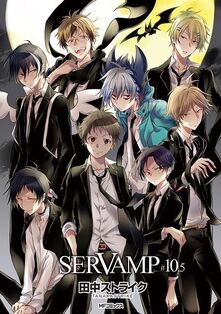 Official Guidebook
Japanese Release Date: December 27, 2016
English Release Date: -
Volume 11
Japanese Release Date: December 27, 2017
English Release Date: July 24, 2018
Volume 12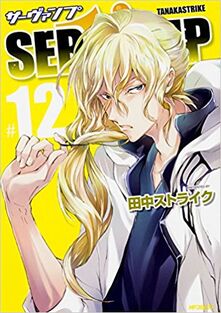 Japanese Release Date: March 27, 2018
English Release Date:
Chapters not yet in Tankōbon Form