This wiki contains SPOILERS!
Welcome!
Welcome to the Servamp Wiki!
A wiki dedicated to the Servamp series by Strike Tanaka. 7,654 edits have been made to our 216 articles and 1,235 images on this wikia since January 5, 2015. Feel free to contribute by creating or editing any of our articles!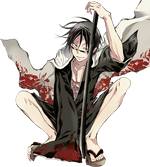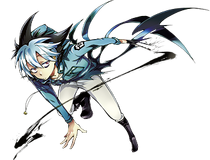 Wiki-Partner!
This is the English Wiki on the manga and anime"Servamp" You may also visit our German partner at:...
Dies ist das englischsprachige Wiki zu "Servamp" - Besucht doch auch mal unseren deutschen Partner: das...
SerVamp Wiki!
About
Servamp (サーヴァンプ SERVAMP) is a Shōjo manga written and illustrated by Strike Tanaka. The series has been serialized in Monthly Comic GENE since the year 2011 with ten volumes, six side-stories and five drama CDs to this date. The series was adapted into an anime in 2016 for a run of twelve episodes.
The story revolves around a boy named Mahiru Shirota who likes simple likes and dislikes difficult things. One day he picks up a stray, black cat he finds and gives it the name Kuro. He discovers that Kuro is a servamp—a servant vampire, named Sleepy Ash and the two create a contract. Mahiru is pulled into the complex world of vampires and the Servamp war between the seven deadly Servamps and their eighth sibling.
Characters
Updates on the Wiki
Administration - December 21th, 2016 by Akemi-tama
I got my beaurocratic rights yesterday - so I am able to make others admin too now.
Saruhikofushimis (Fox) is now admin too - so you can contact him as well =)
If you have any questions, don't hesitate to ask, I will answer the questions as soon as I can^^
Regarding the main page - only admins can edit them now, but if you have ideas, wishes or what ever about it, just leave one of us a message, and either I or Foxy can change it^^