Along with vol. 10, the Official Fan Guide (Vol. 10.5) was released in Japan.
Up until now, it is only available in Japanese. The fan guide covers the most important characters from Servamp, including the side characters. Most of the characters have about 2 - 4 pages. Some information is new some we already know from the previous volumes.
Parameters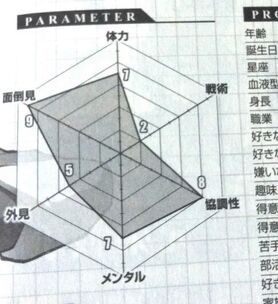 Every character (except for Ryusei and Koyuki) has their parameter shown in some kind of diagram like the picture shows.
Starting from the top, the first five are for all characters the same, the last one is a personal parameter where every character has a personal trait (that he is very good or bad at).
The more points, the better the trait. (The points go from 0 to 10)
The parameters are (starting with the top and reading clock wise:)
Personal parameter (Every character has their own, shown below.)
In the following section we have listed all parameters.
This will be a non-professional translation, so there might be changes in case an English fan guide will be released, please consider this.
| Parameter | Score |
| --- | --- |
| Physical strength | 7 |
| Tactics | 2 |
| Spirit of cooperation | 8 |
| Mental | 7 |
| Outward appearance | 5 |
| Caring | 9 |
| Parameter | Score |
| --- | --- |
| Physical strength | 6 |
| Tactics | 5 |
| Spirit of cooperation | 2 |
| Mental | 3 |
| Outward appearance | 3 |
| Soothing | 10 |
| Parameter | Score |
| --- | --- |
| Physical strength | 6 |
| Tactics | 9 |
| Spirit of cooperation | 3 |
| Mental | 6 |
| Outward appearance | 9 |
| Charisma | 9 |
| Parameter | Score |
| --- | --- |
| Physical strength | 7 |
| Tactics | 6 |
| Spirit of cooperation | 3 |
| Mental | 1 |
| Outward appearance | 6 |
| Negativity | 10 |
| Parameter | Score |
| --- | --- |
| Physical strength | 1 |
| Tactics | 8 |
| Spirit of cooperation | 6 |
| Mental | 6 |
| Outward appearance | 9 |
| Leadership | 8 |
| Parameter | Score |
| --- | --- |
| Physical strength | 5 |
| Tactics | 7 |
| Spirit of cooperation | 9 |
| Mental | 5 |
| Outward appearance | 10 |
| Sex appeal | 10 |
| Parameter | Score |
| --- | --- |
| Physical strength | 3 |
| Tactics | 4 |
| Spirit of cooperation | 6 |
| Mental | 5 |
| Outward appearance | 7 |
| Soothing | 8 |
| Parameter | Score |
| --- | --- |
| Physical strength | 4 |
| Tactics | 6 |
| Spirit of cooperation | 6 |
| Mental | 4 |
| Outward appearance | 6 |
| Breasts | 2 |
| Parameter | Score |
| --- | --- |
| Physical strength | 5 |
| Tactics | 3 |
| Spirit of cooperation | 4 |
| Mental | 5 |
| Outward appearance | 5 |
| Driving | 10 |
| Parameter | Score |
| --- | --- |
| Physical strength | 5 |
| Tactics | 10 |
| Spirit of cooperation | 4 |
| Mental | 7 |
| Outward appearance | 9 |
| Art of conversation | 10 |
| Parameter | Score |
| --- | --- |
| Physical strength | 5 |
| Tactics | 5 |
| Spirit of cooperation | 5 |
| Mental | 7 |
| Outward appearance | 0 |
| Offensive Skill | 9 |
| Parameter | Score |
| --- | --- |
| Physical strength | 4 |
| Tactics | 6 |
| Spirit of cooperation | 1 |
| Mental | 9 |
| Outward appearance | 4 |
| Knowledge | 10 |
| Parameter | Score |
| --- | --- |
| Physical strength | 10 |
| Tactics | 0 |
| Spirit of cooperation | 8 |
| Mental | 8 |
| Outward appearance | 7 |
| Generosity | 10 |
| Parameter | Score |
| --- | --- |
| Physical strength | 4 |
| Tactics | 7 |
| Spirit of cooperation | 6 |
| Mental | 8 |
| Outward appearance | 4 |
| Amount of Subclass | 10 |
| Parameter | Score |
| --- | --- |
| Physical strength | 6 |
| Tactics | 3 |
| Spirit of cooperation | 0 |
| Mental | 10 |
| Outward appearance | 8 |
| Artistic ability | 10 |
| Parameter | Score |
| --- | --- |
| Physical strength | 7 |
| Tactics | 7 |
| Spirit of cooperation | 5 |
| Mental | 1 |
| Outward appearance | 5 |
| Acting Ability | 8 |
| Parameter | Score |
| --- | --- |
| Physical strength | 5 |
| Tactics | 7 |
| Spirit of cooperation | 10 |
| Mental | 7 |
| Outward appearance | 9 |
| Language skills | 10 |
| Parameter | Score |
| --- | --- |
| Physical strength | 9 |
| Tactics | 4 |
| Spirit of cooperation | 7 |
| Mental | 8 |
| Outward appearance | 3 |
| Patience | 8 |
| Parameter | Score |
| --- | --- |
| Physical strength | 7 |
| Tactics | 3 |
| Spirit of cooperation | 6 |
| Mental | 9 |
| Outward appearance | 6 |
| Breasts | 8 |
| Parameter | Score |
| --- | --- |
| Physical strength | 10 |
| Tactics | 1 |
| Spirit of cooperation | 4 |
| Mental | 7 |
| Outward appearance | 3 |
| Appetite | 10 |
| Parameter | Score |
| --- | --- |
| Physical strength | 7 |
| Tactics | 6 |
| Spirit of cooperation | 3 |
| Mental | 5 |
| Outward appearance | 3 |
| Gaudiness | 10 |
| Parameter | Score |
| --- | --- |
| Physical strength | 3 |
| Tactics | 7 |
| Spirit of cooperation | 7 |
| Mental | 6 |
| Outward appearance | 8 |
| Breasts | 10 |
| Parameter | Score |
| --- | --- |
| Physical strength | 5 |
| Tactics | 9 |
| Spirit of cooperation | 6 |
| Mental | 4 |
| Outward appearance | 7 |
| Taste | 2 |
| Parameter | Score |
| --- | --- |
| Physical strength | 8 |
| Tactics | 4 |
| Spirit of cooperation | 3 |
| Mental | 6 |
| Outward appearance | 6 |
| Artistic Ability | 9 |
| Parameter | Score |
| --- | --- |
| Physical strength | 2 |
| Tactics | 3 |
| Spirit of cooperation | 8 |
| Mental | 2 |
| Outward appearance | 4 |
| Strength of Heart | 1 |
| Parameter | Score |
| --- | --- |
| Physical strength | 8 |
| Tactics | 3 |
| Spirit of cooperation | 7 |
| Mental | 9 |
| Outward appearance | 4 |
| Liveliness | 10 |
| Parameter | Score |
| --- | --- |
| Physical strength | 5 |
| Tactics | 8 |
| Spirit of cooperation | 7 |
| Mental | 3 |
| Outward appearance | 4 |
| Luck | 0 |
| Parameter | Score |
| --- | --- |
| Physical strength | 4 |
| Tactics | 6 |
| Spirit of cooperation | 2 |
| Mental | 6 |
| Outward appearance | 9 |
| Agility | 10 |
| Parameter | Score |
| --- | --- |
| Physical strength | 5 |
| Tactics | 9 |
| Spirit of cooperation | 4 |
| Mental | 4 |
| Outward appearance | 7 |
| Bad language | 9 |
| Parameter | Score |
| --- | --- |
| Physical strength | 9 |
| Tactics | 3 |
| Spirit of cooperation | 10 |
| Mental | 9 |
| Outward appearance | 5 |
| Goodness of character | 9 |
| Parameter | Score |
| --- | --- |
| Physical strength | 4 |
| Tactics | 10 |
| Spirit of cooperation | 1 |
| Mental | 9 |
| Outward appearance | 7 |
| Amount of smoking | 9 |
| Parameter | Score |
| --- | --- |
| Physical strength | 6 |
| Tactics | 6 |
| Spirit of cooperation | 7 |
| Mental | 6 |
| Outward appearance | 3 |
| Offensive Skill | 8 |
| Parameter | Score |
| --- | --- |
| Physical strength | 5 |
| Tactics | 8 |
| Spirit of cooperation | 7 |
| Mental | 8 |
| Outward appearance | 3 |
| Defensive Skill | 8 |